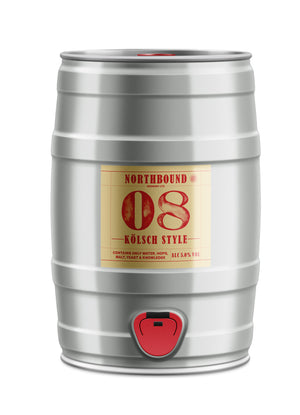 08 Kölsch Style - 5L Mini Keg
Inspired by the German Kölsch style beer, 08 takes its name from the measure of the beer's colour as specified by the EBC, (European Brewery Convention). This bright straw coloured beer is created through the gentle use of German hops and Pilsner malt which imparts a subtle aroma resulting in a smooth and slightly sweet flavour, with a pleasing mild bitter finish. An excellent accompaniment for meat and cheese.
Best chilled in an upright position for 3 hours prior to tapping, instruction for tapping on top of the keg. Mini keg can be disposed of in the recycling bin.

5L Mini Keg
5% ABV